Total Wheel
Mfg# R414900Q
Item# R414900Q
Spray on wheel, hub caps, and car tire cleaner.
Bottle Size: 1 Quart

Due to COVID19 - Trigger Sprayer may differ from the image shown
Total Wheel
Wheel Cleaner
Product Information:
Simoniz® Total Wheel is specially formulated to remove tough, built-up brake dust and grime from wheels, hub caps and tires. The unique formula clings to dirt and grime, breaking it free of the surface and leaving the wheel clean with an extreme shine. Simoniz® Total Wheel is safe for all painted and PVD wheels.
How to Use:
Shake well.
Make sure wheels and tires are cool to the touch.
Work on one wheel at a time.
Spray evenly all over surface and allow to sit for 30 seconds.
For the most stubborn grime, agitate using a wheel brush.
Store in a cool, well ventilated area. Avoid overheating and freezing.
Check it our in our Blog!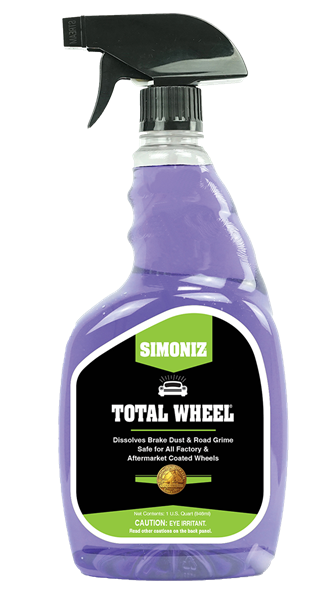 Video
*Actual product packaging may differ from that shown here.