Crush Plus
Crush Plus
Cleaner Degreaser Concentrate
PRODUCT INFORMATION:
Simoniz® Crush Plus is an extremely versatile alkaline cleaning solution concentrate which is great for making quick work of many types of soils. Use it on brake dust, to brighten up wheels, cleaning & degreasing tires and under hood, as a presoak & bug remover when washing your car, carpet cleaning, and more. The solvent is naturally derived from orange peels and it smells great!
We use every day at The Simoniz Garage on everything from cleaning carpets to cleaning up pizza sauce in the break room. No garage or shop should be without a bottle of Crush Plus!
How to Use:
Prior to application, dilute Crush Plus using an 8:1 water-to-Crush Plus ratio in a secondary bottle.
For engines, door jams, wheels & tires, and other hard surfaces, simply spray Crush Plus onto the surface that you wish to clean and wipe away with a clean towel.
For carpets spray Crush Plus onto carpet surface and use a carpet mat brush or rotary carpet tool to clean the surface thoroughly. Wipe clean with terry cloth towel.
TIP:
In hotter climates a dilution rate of 10:1 is recommended.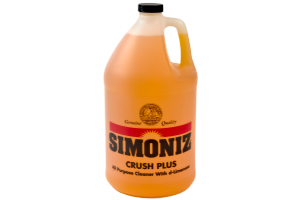 *Actual product packaging may differ from that shown here.