Interior Car Surface Sanitizer
Mfg# S202600Q-TSBY1
Item# S202600Q-TSBY1
Includes Trigger Sprayer TSBY1 (Due to covid-19 trigger may vary from image)
Interior Car Surface Sanitizer
Sanitize and disinfect your vehicle in 10 minutes with our Simoniz Ready-to-Use Interior Car Sanitizer, Disinfectant and Deodorizer.
Used on: All hard/soft surfaces including Leather, cloth and carpet. For use in boats, ships, campers, trailers, mobile homes, cars, taxis and airplanes.
How to use: Spray on hard/soft services allow to dwell for 10 mins and wipe.
When applying we recommend using personal protection equipment. ( gloves and eye wear)
Avoid: Poly carbonated lenses such as speedometers and avoid all electronics.
Condition of car: Do not apply on hot surfaces.
"Simoniz® EPA registered disinfectants and sanitizers are qualified for use against SAR-CoV-2, the novel coronavirus that causes COVID-19."
CLICK HERE FOR EPA INFORMATION
Watch Video for Application Directions: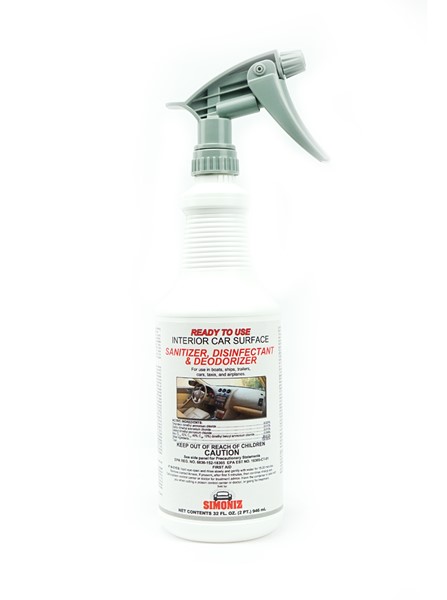 Video
*Actual product packaging may differ from that shown here.