Tire Shine Kit
Mfg# RTUKit13
Item# RTUKit13
No Detail is complete if the wheels aren't clean. The Simoniz Tire Shine Kit is here to give you the perfect finishing touches every time! Simoniz Total Wheel is perfect for cleaning the brake dust and road contaminants off of the alloys or rims, while also breaking down the old tire dressing to prevent dirt sling onto your nicely washed paint. Then finish it up with Nitro Tire Shine to make your tires look better than when you had them put on!
Tire Shine Kit
Tire Shine Kit Includes:
TOTAL WHEEL
Product Information:
Simoniz® Total Wheel is specially formulated to remove tough, built-up brake dust and grime from wheels, hub caps and tires. The unique formula clings to dirt and grime, breaking it free of the surface and leaving the wheel clean with an extreme shine. Simoniz® Total Wheel is safe for all painted and PVD wheels.
How to Use:
Shake well.
Make sure wheels and tires are cool to the touch.
Work on one wheel at a time.
Spray evenly all over surface and allow to sit for 30 seconds.
For the most stubborn grime, agitate using a wheel brush.
Store in a cool, well ventilated area. Avoid overheating and freezing.
NITRO® XTREME GLOSS TIRE DRESSING (S31-1)
PRODUCT INFORMATION:
Almost all aerosol tire dressings look good when they're first applied but drive through a puddle, hit that first rain storm or wash your car and that shine is gone. Not with Nitro®!
Simoniz® Nitro® Xtreme Gloss Tire Shine is a durable, solvent-based high gloss tire dressing that can last up to 30 days in any weather and provides UV protection. Its right up there with Simoniz® Extreme Shine and Resinate on the gloss and durability scale but it comes in a convenient aerosol can. Whether you head to lots of car shows and meets or just want your tires looking wet while driving around town Nitro® is the go-to can when you're on the go. We always keep one in the trunk for tire shining on the fly!
Solvent-based dressings feature greater durability, higher gloss levels, and faster drying times than water-based dressings without any sling. They should only be used on dry exterior surfaces and not in interiors or engine bays.
How to Use:
Thoroughly clean your tires with Simoniz® Wash N' Shine car soap or Simoniz® Crush Plus cleaner degreaser.
Make sure your tires are completely dry.
Spray dressing directly onto your tire or onto a Simoniz® tire dressing pad.
Spray or wipe dressing onto surface to desired gloss in thin, even applications.
Allow surface to dry to the touch for at least 15 minutes before driving the vehicle to prevent sling.
LARGE WIRE WHEEL SPOKE BRUSH (SMA85631-1)
PRODUCT INFORMATION:
Spoke brush cleans wire wheels or wheels with deep spokes. Hundreds of bristles clean hard to reach areas.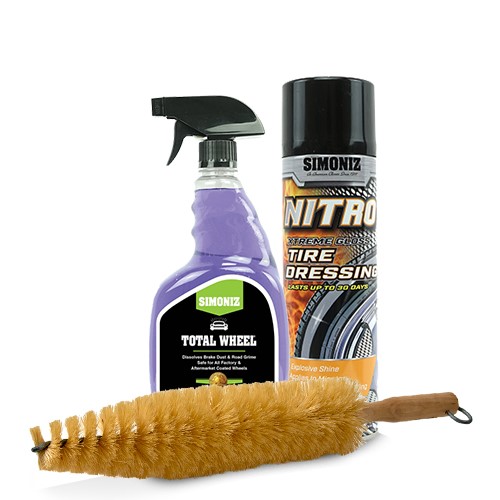 Video
*Actual product packaging may differ from that shown here.