Electrostatic Sprayer Sanitation Kit
Mfg# ECSPRAYER-KIT
Item# ECSPRAYER-KIT
This Kit Includes:
Qty.1 Electrostatic Sprayer (item#: ECSPRAYER) $699.99 value
Qty.6 RTU Interior Surface Sanitizer, Disinfectant, & Deodorizer
(Item#: S202600#6) $99.95 value
Battery and charger included

Coupon codes or promos don't apply to this item
DUE TO LIMITED QUANTITIES LIMIT 1 PER CUSTOMER
Any additional purchase will be cancelled - If you order the electrostatic sprayer sanitation kit and an electrostatic sprayer the individual sprayer purchase will be cancelled!
Electrostatic Sprayer
Sanitizing Spray Gun
Electrostatic Sprayer Details
Simoniz® Disinfection & Sanitizing Systems are fast, effective and the complete chemical and equipment solution for eliminating germs, bacteria, etc. on hard non-porous surfaces and combating the spread of infection, making all vehicle interiors and facilities safe. Our products paired with the electrostatic sprayers provide superior coverage on all surfaces and structures, 360°
• Covers a surface area more quickly and effectively than manual
cleaning
• Sprayed droplets wrap around all objects, coating 360° of all
surfaces - top, bottom, sides and hard to reach areas
• Saves time, labor and money
• Takes advantage of the negative charge on surfaces by putting
a positive electrical charge on the droplets
• Effective on metal, vinyl and plastic
• Portable and cordless
• Battery powered - 4 hour run
"Simoniz® EPA registered disinfectants and sanitizers are qualified for use against SAR-CoV-2, the novel coronavirus that causes COVID-19."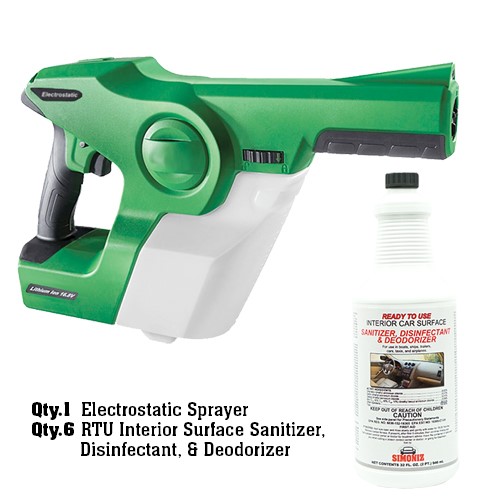 Video
*Actual product packaging may differ from that shown here.