Simoniz Original Paste Wax
Mfg# RT28695-1
Item# RT28695-1
If isn't broke don't fix it! Simoniz Wax has been an American classic for over 100 years. The original paste wax car wax was created in 1911 is one of the longest lasting car wax products on the market.

Simoniz Original Paste Wax
Carnauba Wax
PRODUCT INFORMATION:
You've heard the saying, "If it ain't broke, don't fix it". This is that statement in a can.
Since the automobile first rolled off of the assembly line this little yellow can of paste wax has been the cornerstone of the Simoniz® brand. For over 100 years Simoniz® paste wax has been lovingly applied by your father and your father's father.
It might take a little elbow grease to apply by hand but this is no wimpy wax. This is pure Brazilian carnauba wax, which is the hardest natural wax known to man. It provides the longest lasting shine and durability available in a paste wax and will keep your vehicle's finish looking new. It's also great on chrome. Since it contains no silicone it is absolutely safe for use in body shops.
Think of it as sweat equity in your ride's appearance. The more things change the more Simoniz® Original Paste Wax stays the same.
How to Use:
Work in the shade or inside and make sure your vehicle's surface is completely dry and cool to the touch.
Thoroughly wash your vehicle. Simoniz® Wash N' Shine car soap is a great choice.
Apply a thin layer of wax to a clean wax applicator pad.
Working in small sections of the vehicle, apply the wax with light pressure in straight line motions making sure to cover the area completely.
Wait until the wax completely hazes and buff it out with a clean microfiber towel to reveal a brilliant shine.
TIP:
We always recommend using a clay bar immediately after washing and before waxing to deep clean and remove surface contaminants like tree sap mist, bug residue, road tar, and other stubborn dirt. This will leave the surface super clean and smooth as glass which is what you want before applying any wax, polish, or sealant!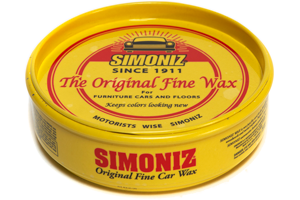 Video
*Actual product packaging may differ from that shown here.