Correction Creme Light Cut Compound
CORRECTION CREME LIGHT CUT COMPOUND
PRODUCT INFORMATION:
Simoniz® Correction Creme is a professional grade yet easy to use light cut compound and polish in one which we designed to remove light oxidation, scratches and swirl marks as well as acid rain contamination. It increases gloss on base coat, gel coat, and clear coat paint finishes. This formula is unique in that it can be used as a one-step, quick hazing cleaner wax or as a light compound in the buffing process. We recommend this product for removing oxidation and scratches from base coat and clear coat paint finishes. It works great by hand and even better by machine.
How to Use:
Work in the shade or inside and make sure your vehicle's surface is completely dry and cool to the touch.
Thoroughly wash your vehicle. Simoniz® Wash N' Shine car soap is a great choice.
Shake well before using.
Tape off any nearby moldings and headlights.
If applying by hand, apply a thin layer of product to a clean wax applicator pad. Working in small sections of the vehicle, apply the product with light pressure in straight-line motions making sure to cover the area completely. Start with your hood and move from the front to the back of your vehicle applying to the top surfaces first and then moving down the side of your vehicle. Repeat these steps on the opposite half of your vehicle. For scuff mark removal, simply rub the product into the surface. Then, wipe away with a microfiber towel.
For more serious damage and expert results, use a variable speed buffer at 1200-1400 RPM. Dispense (3) three inch lines of product around the edge of the pad. Press the pad to the paint and spread the compound over the panel before turning the machine on to prevent splatter. When you are finished applying the compound turn off your machine before lifting it off the paint.
When finished wipe clean with a microfiber towel.
Follow with Simoniz® Swirl Remover.
TIP:
Be careful when applying as this product can burn through your paint when applied improperly with a machine.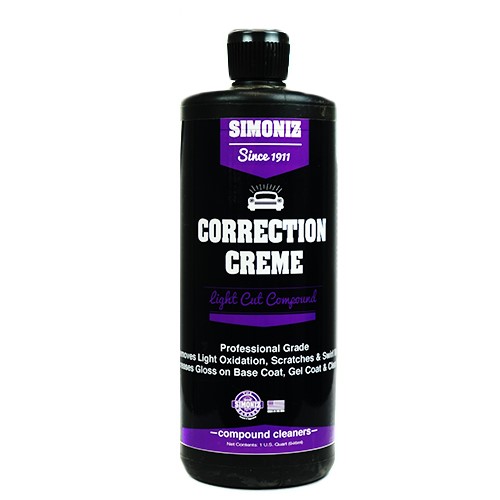 *Actual product packaging may differ from that shown here.