S-F Quick Detailer
S-F Quick Detailer
PRODUCT INFORMATION:
Simoniz® S-F Quick Detailer is a professional grade, silicone-free, body shop safe detail spray. It leaves a smooth, bright, non-static finish and is safe for all automotive surfaces. It's great for final touchups on paint, glass, chrome, fiberglass, and interior & exterior plastic effects.
Simoniz® Body Shop Safe formulas are special formulas that do not contain any ingredients that might interfere with the painting process in a body shop. Some ingredients, such as certain silicones, can cause major issues if used in a body shop where paint is being sprayed but are otherwise harmless. If you own or operate a body shop rest assured that these products will not cause any problems and are perfectly safe to use in areas where vehicles are painted.
How to Use:
If your vehicle is dirty with more than a light layer or dust or fallout, wash and dry it before applying detail spray.
Spray a thin, even mist onto one panel at a time and buff to brilliant shine with a clean microfiber towel.
TIP:
Using quick detailer as you are towel drying your car after a wash will prevent water spots and add more shine.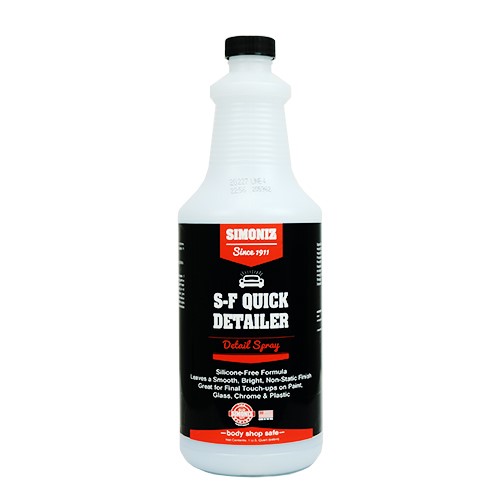 Video
*Actual product packaging may differ from that shown here.