64 oz. Pump Up Spray Applicator
64 oz. Pump Up Spray Applicator
PRODUCT INFORMATION:
The Simoniz® 64 oz. Pump Up Spray Applicator is the the perfect tool for dispensing larger amounts of cleaning liquids.
The container features a very durable plastic body with a hand pump spray head. It's great for carpet shampoo, wheel cleaners or degreasers and jobs requiring more cleaning agents. One replaceable nozzle is included.
How to Use:
Uncap the bottle and pour in the liquid product of your choice.
Make sure your tires and trim are completely dry.
Put the cap back on and move the plunger up and down to create pressure until you feel resistance.
Simply pull the trigger to spray the liquid.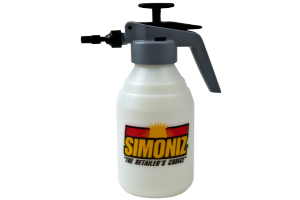 *Actual product packaging may differ from that shown here.