Trimtastic
Mfg# T410000Q
Item# T410000Q
Restores faded bumpers, trim, mirror covers, tonneau covers, and more. 32 oz.
Trimtastic
Trim Restorer
PRODUCT INFORMATION:
Simoniz® TrimTastic® is a semi-permanent coating used to restore faded and rough bumpers, racks, trim, moldings, tonneau covers, and mirror covers. This product will bring back the natural shine to unpainted, porous, plastic surfaces on vehicles. Simoniz® TrimTastic is wash resistant and will provide months of protection over any other type of dressing.
How to Use:
Thoroughly clean your trim with Simoniz® Wash N' Shine car soap or Simoniz® Crush Plus cleaner degreaser. Make sure your trim is completely dry.
Apply dressing onto an applicator pad.
Wipe dressing onto surface to desired gloss in thin, even applications.
Allow surface to dry to the touch.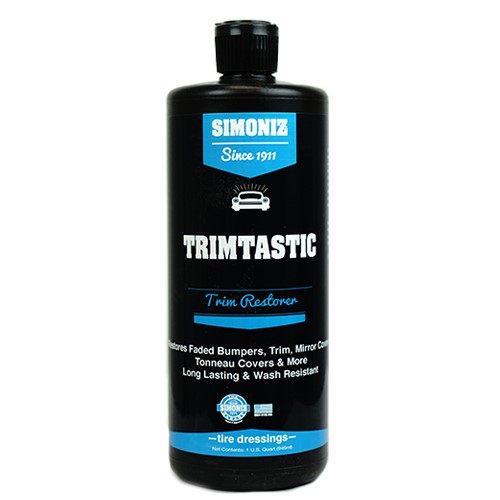 Video
*Actual product packaging may differ from that shown here.