Swell Stainless Steel Polish Aerosol
SWELL STAINLESS STEEL POLISH AEROSOL
PRODUCT INFORMATION:
Swell Stainless Steel Polish contains cleaning solvents, detergents and oils for superior cleaning of stainless steel. It cleans, polishes, and protects the surface without any hard rubbing and without oily residue. Resists fingerprints, grease and water splatter.
How to Use:
Best applied to a clean and cool surface.
For larger surfaces product can be sprayed on directly and wiped off with a clean terrycloth towel.
TIP:
For smaller or narrow surfaces spray product onto a clean terrycloth towel or wax applicator pad and apply.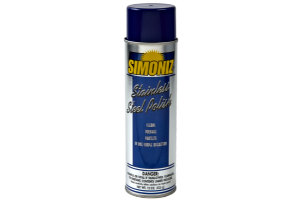 Video
*Actual product packaging may differ from that shown here.