Paint Protection Kit
Paint Protection kit
Protecting your paint made easy!
Simoniz products are formulated to protect your vehicles paint from all things mother nature throws at it. This kit includes a protection process to make sure that the seasonal elements don't stain or tarnish your car. Leaves, especially when wet, can be very harmful to your paint.
This Kit Includes:
Wash 'N Shine
Simoniz® Wash N' Shine is our high foaming, lemon scented neutral car wash soap that was designed to apply by hand but also works well through a pressure washer. It's biodegradable and safe for all automotive finishes. This is a favorite for hand washing at The Simoniz Garage and we use it before starting any other detail work.
Strawberry Express Liquid Wax
Simoniz® Strawberry Express wax features our special blend of synthetic polymers for ease of use, pure carnauba for excellent durability, and strawberry fragrance which smells incredible and makes it very enjoyable to work with. It is easily applied and removed without leaving any residue behind on unpainted trim and can last up to 90 days under normal driving conditions.
Ceramic Sealant
Simoniz® Ceramic Sealant has an advanced SiO2 formulation for long lasting shine and protection that is safe for all surfaces. Its unique formulation delivers a highly hydrophobic and durable surface. Protecting your vehicle has never been easier! With Simoniz® Ceramic Sealant, you can polish your vehicle, give your wax or ceramic coating a boost and be the envy of your neighbors in only a few minutes. "SHINED, SEALED, DELIVERED"!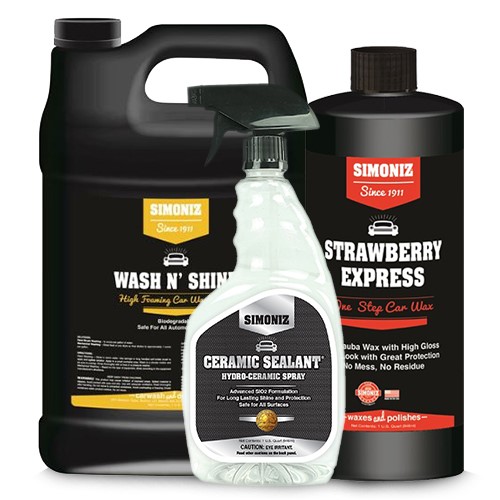 *Actual product packaging may differ from that shown here.