Prism Water Based Tire Shine & Dressing
Prism Water Based Tire Shine & Dressing
PRODUCT INFORMATION:
Have you ever applied a water-based dressing only to have it run down the sidewall of the tire or off of the trim and onto your paint? That won't ever happen with Simoniz® Prism. This gel-style dressing features all of the good stuff. It has high gloss, outstanding durability, UV protection, and it will not run or drip.
This thick, highly viscous water-based surface dressing goes on evenly and stays in place to shine your tires and restore your faded bumpers, wheel openings, body side moldings, and any other unpainted rubber, plastic, or vinyl trim.
Water-based surface dressings don't last quite as long as solvent-based dressing but they are easier to work with and feature a more natural shine. They can be used on wet or dry exterior and interior surfaces and work great on engine compartment surfaces. They can easily be cleaned off of your garage floor or driveway if spilled and will not stain.
How to Use:
Thoroughly clean your tires and trim with Simoniz® Wash N' Shine car soap or Simoniz® Crush Plus cleaner degreaser.
Squeeze onto a Simoniz® tire dressing pad or applicator. Surface can be wet or dry.
Wipe dressing onto surface to desired gloss in thin, even applications.
Allow surface to dry to the touch before driving the vehicle to prevent sling.
TIP: For tires with aggressive or knobby treads wipe off excess product accumulation with a clean towel to prevent sling.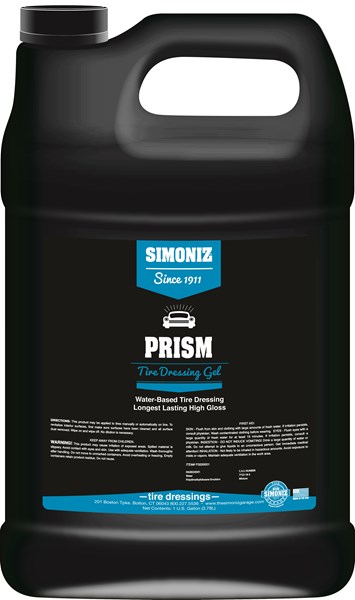 Video
*Actual product packaging may differ from that shown here.