Gold Pro Package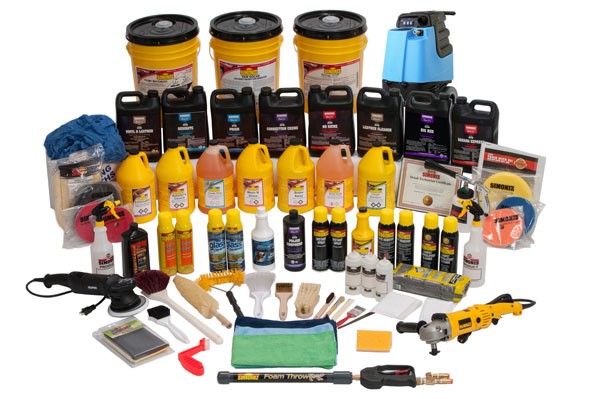 The ultimate start-up package, our Gold Pro Package includes everything found in our Silver Pro Package, PLUS a variety of advertising signs and traffic cones. Not only will your detailing business be founded on the expertise you'll learn from Simoniz's certified detail technicians, but it will look professionally and consistently branded right from the get-go. In addition to the merchandise and hands-on training, you'll also get an array of highly effective Simoniz products and tried-and-tested detailing tools.
Item #: PP1
Cost: $7,600.00
Shipping: FREE
To learn more or to customize your package, call the Simoniz Garage at 860-512-2222 and ask for Will or Logan.
THIS PACKAGE INCLUDES...
Basic Detail Necessities:
#1 Carpet & Upholstery Cleaner, 5 gallons
#2 Vinyl Dressing, 5 gallons
#3 Glass & Multi-Surface, 5 gallons
#4 Cleaner Degreaser, 5 gallons
Hand Wash Process:
Auto Foam, 5 gallons
Bug Off, 5 gallons
Multi Solve, 4 gallons
Tar Solve, 5 gallons
Wheels:
Total Wheel, 5 gallons
Crush Plus, 4 gallons
---
Wax:
Banana Express Wax, 6 quarts
Nu Shine, 6 quarts
Diamond Plate, 6 cases
Clay / Quick Wax:
Body Gloss, 5 gallons
Fine Grade Clay (gray), 1 bar
Medium Grade Clay (purple), 1 bar
Polishing / Compounding:
Big Red Heavy Cut Compound, 6 quarts
Correction Creme Light Cut Compound, 6 quarts
Traverse, 6 quarts
Transcend, 6 quarts
Polish Compound, 6 quarts
Quick Cleaner Polish, 6 quarts
Tire Shine:
Resinate Solvent-Based Tire Shine & Protectant, 5 gallons
Tire Glaze Water-Based Tire Shine & Dressing, 5 gallons
---
Glass Treatment:
---
Leather Service:
Leather Cleaner & Conditioner, 4 gallons
---
Specialty:
Odor Out Kits, 6
Auto Efficiency Aerator, 1
Trimtastic, 6 quarts
Carpet Spot Remover Towels, 6-pack
Aerosols:
Aerosol Citrus All-Purpose Cleaner, 12 cans
Aerosol Glass Cleaner, 12 cans
Aerosol Instant Spray, 12 cans
Aerosol Spot Remover, 12 cans
Basic Tools:
Dilution Control / Blend Station, 1
Wash Mitts, 10
¾" Spigot Spout, 1
6" Padco Paint Pad, 1
Padco Paint Pad Handle, 1
4" Square Pad Applicators, 25
5" Round Pad Applicators, 25
Mini Pneumatic Carpet Tool, 1
Melamine Sponges, 12
Headlight Spray Kit, 1
Bottle 2nd Bug Off, 32 oz
Bottle 2nd Carpet/Upholstery, 32 oz
Bottle 2nd Cleaner Degreaser, 32 oz
Bottle 2nd Glass&Multi S, 32 oz
Bottle 2nd Vinyl Dressing, 32 oz
Ketchup-Style Bottles, 24
Universal Secondary Bottles, 50
Pet Hair Brush, 1
Firm Mini Tool Brush, 1
Soft Mini Tool Brush, 1
Dual-Purpose Toothbrush-Style Brushes, 12
Paint-Style Detail Brushes, 12
Toothbrush-Style Detail Brushes, 12
Vent & Dash Brushes, 12
Whitewall / Sidewall Brushes, 12
Wire Wheel Spoke Brushes, 12
Carpet Shampoo Applicator, 64 oz.
Fur Remover Block, 1
6.5" Cutting Pad (blue), 1
6.5" Finishing Pad (red), 1
6.5" Polishing Pad (orange), 1
Rupes Big Foot Random Orbital Polisher 21, 1
Microfiber Towels (blue), 6
Microfiber Towels (green), 6
Micro Magic Shammy Towels, 12
Terry Towels, 12
Huck Towel, 1
Steel Wool, 1 sleeve
Trigger Sprayer (black/yellow), 1
Chemical-Resistant Trigger Sprayer, 1
3-Way Scraper, 1
Razor Blades (metal), 1 box
Razor Blades (plastic), 1 box
Heavy-Duty Scrub Sponge (white), 1
Bug & Tar Sponges, 1
Air Tool Blow Gun, 1
Mytee Extractor, 1
Bucket Grate, 1
Merchandise:
BrakeDust & Rim Cleaner Sign
Bumper to Bumper Windmast Sign
Sign Carpet & Upholstery Sign
Sign Corvette Sign
Express Detail Insert Sign
Express Detail CarpetSham Sign
Express Detail ExpressWax Sign
Express Detail Interior Sign
Express Detail W/M Insert Sign
ExpressDetail Services 3 Sign
Gold Seal Sign
Interior Detailing Sign
Interior Rub & Vinyl Pro Sign
Leather Cleaner & Conditioner Sign
"Only 20 Minutes" Sign
Vintage "Beauty that Lasts" Sign
Vintage "Get Waxing" Sign
Vintage "It's Your Ride" Sign
Windmaster Frame, 28 x 44"
Traffic Cones (yellow), 3
Training:
3-day training at the Simoniz Garage
---
*Actual product packaging may differ from that shown here.