The Total Package
Mfg# RTUKit1
Item# RTUKit1
Complete car detailing kit of all of the Simoniz RTU Products
All Bottles: 1 Quart
The Total Package - Ready To Use Detailing Products
Includes:
Detailer's Choice
How to Use:
For quick polishing: simply spray on and wipe off.
We recommend using a microfiber towel.
Interior Cleaner
How to Use:
Test in an inconspicuous area to ensure compatibility.
For lightly contaiminated surfaces spray onto microfiber towel/mitt, agitate the surface, and wipe dry.
For cloth, upholstery, and carpet, spray directly onto the material.
Allow several minutes of dwell time, agitate with appropriate cleaning accessory, and wipe dry with a clean microfiber towel.
Stubborn stains may require additional applications.
NOTE: for oil based stains, try SIMONIZ All Purpose Degreaser.
All Purpose Cleaner Degreaser
How to Use:
Spray on, scrub with stiff brush, and wet vac up.
For manual whitewall cleaning, spray on and rinse.
For break dust removal and wire wheel cleaning, spray on and rinse with water.
To remove gas stains, spray on, wipe and rinse.
As an engine degreaser, cover all electronic components before applications.
Do not apply directly to a hot surface.
Do not allow to try on painted surfaces.
Do not apply to polycarbonate lenses such as gauge clusters or navigational screens.
Not recommended for glass
Flash Black
How to Use:
To avoid over application, spray directly onto a foam applicator or sponge.
Apply to the surface and allow to dry.
For large surfaces, spray the product directly on the surface and blend with a towel.
In the event of over saturation, wipe excess away with a clean towel.
This product is great for dressing plastic components in engine bay and unpainted exterior molding.
Total Wheel
How to Use:
Shake well.
Make sure wheels and tires are cool to the touch.
Work on one wheel at a time.
Spray evenly all over surface and allow to sit for 30 seconds.
For the most stubborn grime, agitate using a wheel brush.
Store in a cool, well ventilated area. Avoid overheating and freezing.
Smart Wash Waterless Wash and Wax
How to Use:
Shake Well
Work in small sections at a time
Apply a moderate amount directly on the surface using a microfiber towel
Ceramic Sealant
How to Use:
Shake well.
Hold 8-12 inches away and spray directly on to paint.
Spread product evenly using a soft clean towel to reveal and explosive shine.
Bug & Tar OFF
How to Use:
This product is best applied to the vehicle under low volume and low pressure.
Spray on surface and allow to dwell for a short period of time.
If bugs are especially thick or stubborn, the product should be followed by agitation and high pressure rinse.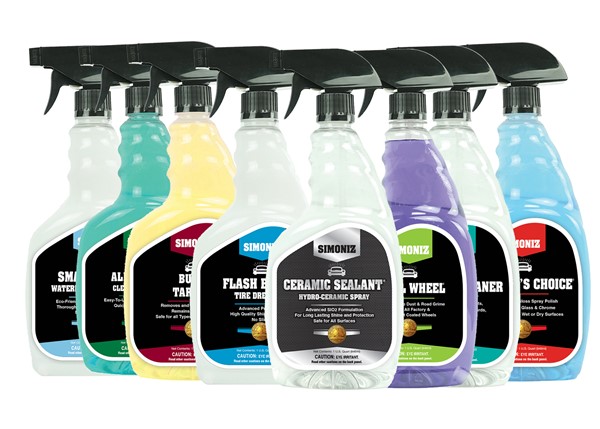 *Actual product packaging may differ from that shown here.