Quick Cleaner Polish
QUICK CLEANER POLISH
PRODUCT INFORMATION:
If you have light scratches and swirls and don't want to take the time to perform a full paint restoration then this is your formula.
Simoniz® Quick Cleaner Polish is a polish and cleaner wax in one. We consider this an ultra-fine polish which makes quick work of light scratches and swirls and leaves your paint looking wet and protected with long lasting gloss. This formula is easy to work with requiring minimal effort. It hazes quickly and removes effortlessly.
Call it a wax or call it a polish. Either way get ready for paint that looks miles deep!
How to Use:
Work in the shade or inside and make sure your vehicle's surface is completely dry and cool to the touch.
Thoroughly wash your vehicle. Simoniz® Wash N' Shine car soap is a great choice.
Shake well before using.
If applying by hand, apply a thin layer of product to a clean wax applicator pad. Working in small sections of the vehicle, apply the product with light pressure in straight line motions making sure to cover the area completely. Start with your hood and move from the front to the back of your vehicle applying to the top surfaces surfaces first and then moving down the side of your vehicle. Repeat these steps on the opposite half of your vehicle.
If applying by machine we recommend a random orbital polisher or a variable speed buffer. Variable speed buffing should be done with a polishing foam pad at 1000-1200 RPM. Dispense (3) three inch lines of product around the edge of the polishing pad of your choice. Press the pad to the paint and spread the polish over a panel before turning the machine on to prevent splatter and follow the same procedure as above. Once you have applied the product over every panel until they are evenly covered turn off your machine before lifting it off the paint.
Wait until the product completely hazes and buff it out with a clean microfiber towel to reveal a brilliant shine.
TIP:
We always recommend using a clay bar immediately after washing and before waxing to deep clean and remove surface contaminants like tree sap mist, bug residue, road tar, and other stubborn dirt. This will leave the surface super clean and smooth as glass which is what you want before applying any wax, polish, or sealant!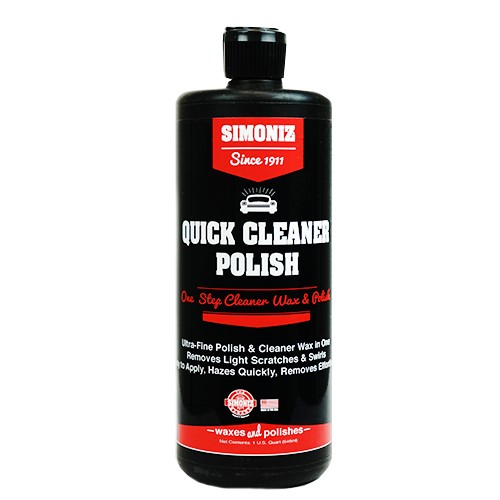 *Actual product packaging may differ from that shown here.