Body Gloss
Mfg# B037500Q
Item# B037500Q
Works great on paint, glass and chrome. Designed with car shows in mind.
Body Gloss
PRODUCT INFORMATION:
If you spend a lot of time showing off your ride you need to make sure your paint and exterior finishes always look like they were just waxed. We know that when its show time every little detail counts so we developed this handy formula that gives that "just waxed look" in seconds. Applying a detail spray is one of the fastest and easiest ways to elevate shine and top off your wax. Apply it several times a week to extend the life of your wax or sealant.
Simoniz® Body Gloss is a one-step high gloss spray polish featuring our signature silicone blend for use on all of your automotive finishes. It can be sprayed on wet or dry surfaces and hand buffed to a high gloss and smooth finish.
We use this stuff all of the time as the final step after detailing a vehicle and presenting it to the customer and also as a quick detailer at car shows. In addition to it's anti-static properties it also repels fingerprints and dust and can be used as a clay lubricant. Never leave home without it!
How to Use:
If your vehicle is dirty with more than a light layer or dust or fallout, wash and dry it before applying detail spray.
Spray a thin, even mist onto one panel at a time and buff to brilliant shine with a clean microfiber towel.
TIP:
Using quick detailer as you are towel drying your car after a wash will prevent water spots and add more shine.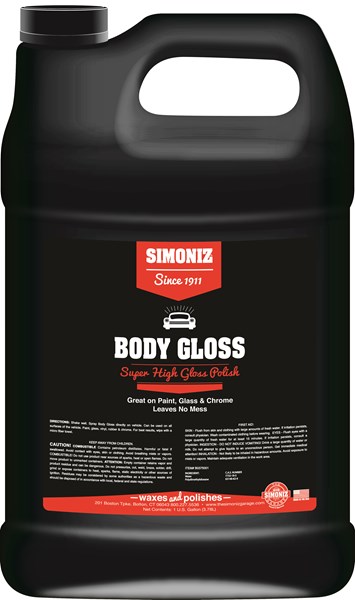 Video
*Actual product packaging may differ from that shown here.