Interior Cleaning Kit
Interior Cleaning Kit
Interior Cleaner
How to Use:
Test in an inconspicuous area to ensure compatibility.
For lightly contaiminated surfaces spray onto microfiber towel/mitt, agitate the surface, and wipe dry.
For cloth, upholstery, and carpet, spray directly onto the material.
Allow several minutes of dwell time, agitate with appropriate cleaning accessory, and wipe dry with a clean microfiber towel.
Stubborn stains may require additional applications.
NOTE: for oil based stains, try SIMONIZ All Purpose Degreaser.
Citrus Cleaner Aerosol
How to Use:
For engines, door jams, wheels & tires, and other hard surfaces, simply spray Citrus Clean onto the surface that you wish to clean and wipe away with a clean towel.
For carpets spray Citrus Clean onto carpet surface and use a carpet mat brush or rotary carpet tool to clean the surface thoroughly. Wipe clean with terry cloth towel.
Carpet & Upholstery Cleaner
How to Use:
Spot test for colorfastness by spraying Carpet & Upholstery Cleaner on an inconspicuous area. Wipe with a white cloth or paper towel. If no bleeding of color occurs, proceed with the cleaning application.
Blot up any excess liquid from the spill with an absorbent cloth.
Spray Carpet & Upholstery Cleaner onto stain. Be sure not to saturate.
Agitate with carpet brush, blending cleaning area into adjacent carpet area.
Blot with a clean cloth to absorb the solution.
Repeat on tough stains.
Allow to dry, then vacuum.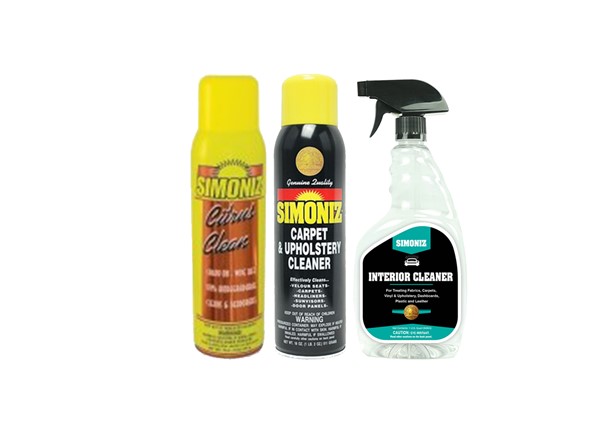 *Actual product packaging may differ from that shown here.