Extreme Shine Solvent Based Tire Shine & Dressing
PRODUCT INFORMATION:
We call this one Extreme Shine for a reason.
When you're looking for the absolute highest shine imaginable and only the best durability and UV protection will suffice look no further than Simoniz® Extreme Shine. It's a solvent-based tire and exterior dressing that goes on evenly to shine your tires and restore your faded bumpers, wheel openings, body side moldings, and any other unpainted rubber, plastic, or vinyl trim. Detailing your car without Extreme Shine would be like wearing a suit with old sneakers. Don't do that to your ride. Use Extreme Shine and your car will thank you for it.
Solvent-based dressings feature greater durability, higher gloss levels, and faster drying times than water-based dressings without any sling. They should only be used on dry exterior surfaces and not in interiors or engine bays.
How to Use:
Thoroughly clean your tires and trim with Simoniz® Wash N' Shine car soap or Simoniz® Crush Plus cleaner degreaser.
Make sure your tires and trim are completely dry.
Spray dressing directly onto your tire or trim or onto a Simoniz® tire dressing pad.
Wipe dressing onto surface to desired gloss in thin, even applications.
Allow surface to dry to the touch before driving the vehicle to prevent sling.
TIP:
For tires with aggressive or knobby treads wipe off excess product accumulation with a clean towel to prevent sling.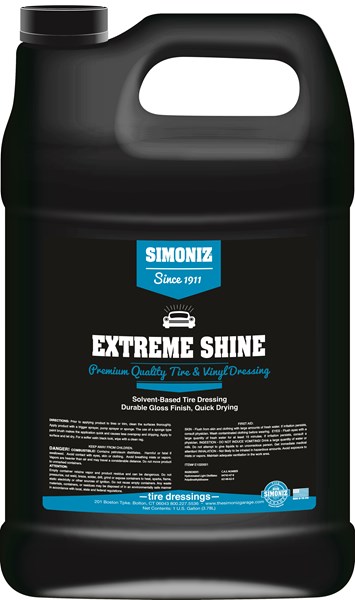 Video
*Actual product packaging may differ from that shown here.