Chrome Polish
Mfg# S327500Q
Item# S327500Q
Restore the original beauty and shine to chrome in seconds with Simoniz Chrome Polish, Chrome cleaner & chrome polisher!
Chrome Polish
Chrome Cleaner
PRODUCT INFORMATION:
If your car, truck, or bike is decked out in chrome then you know that clean and shiny chrome is just as important as taking care of your paint.
Simoniz® Chrome Polish was designed with classic cars and motorcycles in mind but it works great on any chrome surface. This chrome polish cleans and restores the original beauty and shine to bumpers, trim and moldings. It's non-abrasive so there is no chances of it leaving scratches but it will remove minor rust and bring dull chrome back to life.
How to Use:
Work in the shade or inside and make sure vehicle surface is completely dry and cool to the touch.
Thoroughly wash your vehicle making sure there is no debris on the chrome surface. Simoniz® Wash N' Shine car soap is a great choice.
Apply a thin layer of product to a clean wax applicator pad. Working in small sections of the chrome surface apply the product in circular motions making sure to cover the area completely.
Wait until the product completely hazes and buff it out with a clean microfiber towel to reveal a brilliant shine.
TIP:
After polishing we always recommend putting a coat of wax like Simoniz® Sure Shine on chrome surfaces to protect that brilliant and long lasting shine.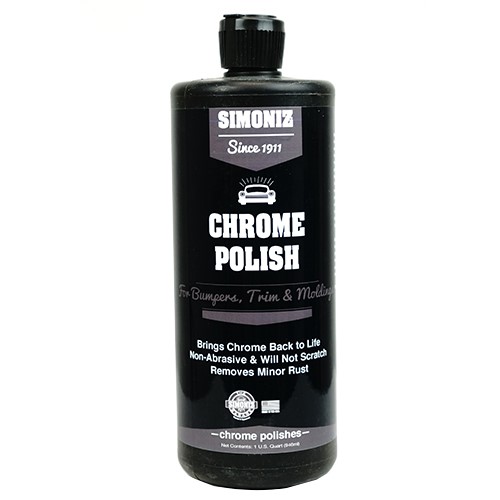 Video
*Actual product packaging may differ from that shown here.