Ryan Preece Continues to Shine on the NASCAR Circuit for Simoniz!
Posted on by The Simoniz Garage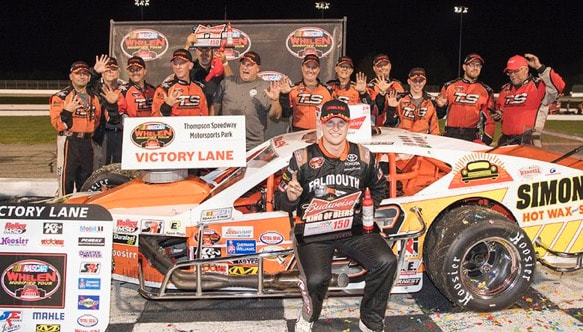 With such a rich history in the automotive industry, it's no wonder that Simoniz has been a part of the car racing scene for over 70 years. Beginning in 1959, Simoniz sponsors race cars and their drivers in events like the Indianapolis 500, one of the most prestigious races in the world. The Simoniz car and driving teams find their way into the winners circle in cars with that signature Simoniz shine!
Today, our name is proudly displayed on the NASCAR of Ryan Preece, 2013 NASCAR Whelen Modified Tour Champion, who was named to NASCAR's elite, NASCAR NEXT, class of 2013 & 2014. Preece is a 3-time NASCAR Whelen All-American Series New Smyrna Speedweeks Modified Champion (2015, 2016, 2017) and has a long list of other notable accomplishments that make him a perfect candidate to display the Simoniz colors as he crosses each finish line.
Preece hails from Berlin, CT, just a 25 minute drive from the Simoniz headquarters in Bolton, CT, and spends a lot of time taking home titles in our home state. The kid has been unstoppable as of late – and it's really inspiring to watch someone with such a love and respect for cars carry our colors past the checkered flag.
Just last week, Preece posted his second straight Whelen Modified Win – his fourth of the season, in nearby Thompson, CT. Preece charged to the front of the 28th Annual Bud "King of Beers" 150 for his second straight NASCAR Whelen Modified Tour victory and fourth of the season. He passed defending champion Doug Coby with just 16 laps remaining en route to the win. In his last six Whelen Modified Tour starts, he has four wins, a second and a fourth. It was his 19th career tour victory.
What's your favorite Ryan Preece story? Share in the comments below!
Head to https://shop.simoniz.com/ to check out our full line of products to help YOU get that Simoniz Shine every time, even if you're not driving a racecar at 90MPH. You can also follow us on Facebook for more tips and to have all of your questions answered, and as always – send us pictures of your ride using #SimonizShine.
Shop & Save- Use promo code: Preece2017
---
---