Nitro Shots Carpet & Upholstery Cleaner & Stain Remover
Mfg # NS3-1
Item# NS3-1
Simoniz® NitroShots® are powerful cleaning products that are tough on dirt, grime, and soils but are easy on the wallet and the environment. Each product includes a pre-filled quart of product plus two Refill Shots that each make an additional quart of product when diluted in water. These products cut down on packaging waste and offer great value and convenience by providing 3 bottles in 1! When the pre-filled bottle runs out, simply drop a Refill Shot in and fill it with water. Watch it dissolve
and you're ready to start cleaning again!
Simoniz® NitroShots™ Carpet & Upholstery Cleaner & Stain Remover is a powerful deep cleaning product that easily eliminates most
water & oil based stains and leaves no sticky residue behind to attract soil. Great on carpets, floor mats, cloth seats & door panels, and on
household fabrics.
*Actual product packaging may differ from that shown here.
Customer questions & Answers
Reviews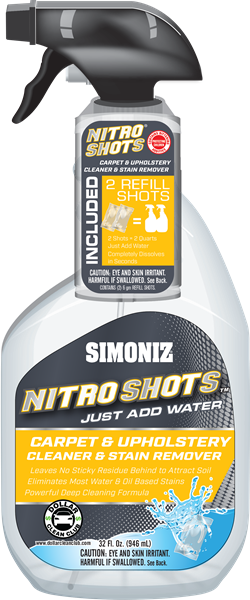 Tested & Approved
Developed in our lab, tested in the Simoniz Garage and used everyday by Professional Detailers Worldwide.
Learn More