EverZorb Super Absorbent 5 lbs.
PRODUCT INFORMATION:
Simoniz EverZorb is the cleanest, greenest, and easiest to use absorbent available today. Just 5 pounds of EverZorb is as effective as 60 pounds of traditional clay absorbents without the dusty mess and it can be reused up to 8 times. Have a messy spill on your floor? Spread, sweep, store in a pail, and use again and again. Easy on the environment and your wallet. EverZorb instantly encapsulates all automotive chemicals with no slippery residue. Use on oil, antifreeze, fuel, ATF, battery acid, and even paint spills. EverZorb is essential for your shop. EverZorb also works great on household spills such as milk, wine, juice, food products, bodily fluids, and more. Keep a bag in the shop and a bag at your house. Non-toxic and safe around pets.
How to Use:
Spread generously on spill.
Spread product around spill and sweep in back and forth motions to completely encapsulate the spill.
Sweep into a dust pan and either discard or put it back into the bag. EverZorb can be reused up to 8 times.
TIP:
Since EverZorb is reusable do not be afraid to use too much product.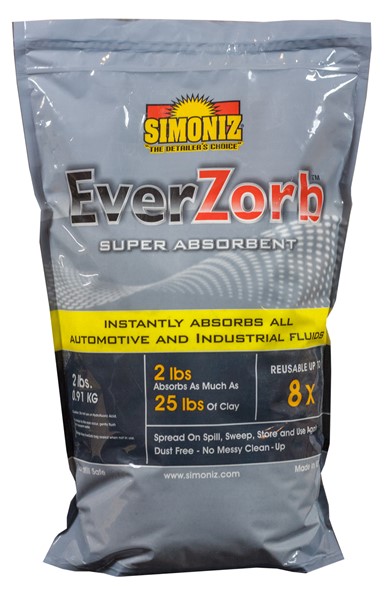 Video
*Actual product packaging may differ from that shown here.