Clock w/Stand
Mfg # clockyel
Item# clockyel
Our vintage inspired Simoniz Can Clocks are great for your office, detail shops, or even as a gift. Our original paste wax can was featured in the Christmas Story!<br />
PRODUCT INFORMATION:
Our vintage inspired Simoniz Can Clocks are great for your office, detail shops, or even as a gift. Our original paste wax can was featured in the Christmas Story!
*Actual product packaging may differ from that shown here.
Customer questions & Answers
Reviews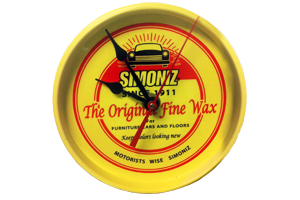 Tested & Approved
Developed in our lab, tested in the Simoniz Garage and used everyday by Professional Detailers Worldwide.
Learn More