Brake Dust Buster Wheel Cleaner 24 oz.
Mfg # S7-1
Item# S7-1
A ready to use wheel cleaner that makes quick work of brake dust, dirt and grime.
PRODUCT INFORMATION:
Simoniz® Brake Dust Buster is an all purpose wheel cleaneing gel that sticks to the surface to remove tough built up brake dust and grime from your wheels. This unique formula sprays a bright green so you can easily see if you have missed any spots on your wheels. The gel clings to wheels giving this formula ample time to do its magic. It is formulated to be safe for use on all kinds of wheels and hub cap finishes including PVD, ABS Plastic, Clear Coats, Chrome, Aluminum, Wire, OEM Painted, Anodized, and Magnesium. Anodized wheels should be tested first in an inconspicuous area to avoid damage.
How to Use:
Make sure your wheels are cool and dry.
Spray product directly onto wheels making sure to cover them evenly.
Let product sit for one minute and spray it off with a hose.
TIP:
For extremely dirty wheels agitate with a wheel brush before rinsing.
*Actual product packaging may differ from that shown here.
Customer questions & Answers
Reviews
Loading Product Reviews...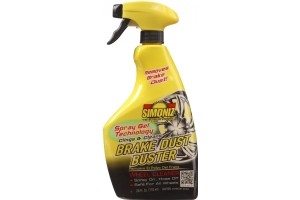 *Actual product packaging may differ from that shown here.
Tested & Approved
Developed in our lab, tested in the Simoniz Garage and used everyday by Professional Detailers Worldwide.
Learn More