Complete Motorcycle Detail Kit
Mfg# MCK1
Item# MCK1
The Complete Motorcycle Detail Kit is designed to tackle every aspect of your motorcycles cleaning regimen.
Complete Motorcycle Detail Kit
Motorcycle Cleaning
The Complete Motorcycle Detail Kit is designed to tackle every aspect of your motorcycles cleaning regimen.
This kit includes:
Vision Clear Aerosol will give a streak free shine to your motorcycles windshield. It is ammonia free which makes it safe for any tints as well.
Smart Wash Waterless Wash and Wax is included in this kit to keep the wash process as controlled as possible. With no need for added water, you simply spray and wipe away dirt and road grime to avoid soap running off the surfaces and sticking to other parts of your motorcycle.
All Purpose Cleaner Degreaser is included because this is ideal for everything you could imagine, but specifically cleaning the engine area of grease on your motorcycle. Also, does a great job on residual gasoline that may have spilt on the beautiful paint on the surface of the tank.
Simoniz Chrome Polish has been included as well. Be careful not to blind your fellow motorists with the shine coming off your chrome on a nice long drive on a summer day!
Leather Cleaner and Conditioner is perfect for keeping those leather seats that are exposed to the elements clean and moisturized. This way they stay in tact as long as possible. Normally with cars we recommend this process every 4 months, but because of the seats exposure to the sun, we recommend using this every 90 days or so on your motorcycle! We have included the Wax Applicator Pad for easy application.
Ceramic Sealant is a must have when taking care of your Motorcycle. The hydrophobic protection makes it perfect for protecting all painted surfaces of your motorcycle and windshield from the elements. Remember not to spray on any seats, electronics, throttle or switches.
Lastly, we included a couple brushes and towels to complete your kit. The Vent & Dash Brush is light enough and intricate enough to help clean your leather and your switches. The 10" Heavy Duty Detail Brush is included for the heavy jobs that involve grease or caked on dirt in and around the engine or wheels. Then use the 6 pack Microfiber Towels to clean up residual residue or messes to finish your Motorcycle Detail and Wash.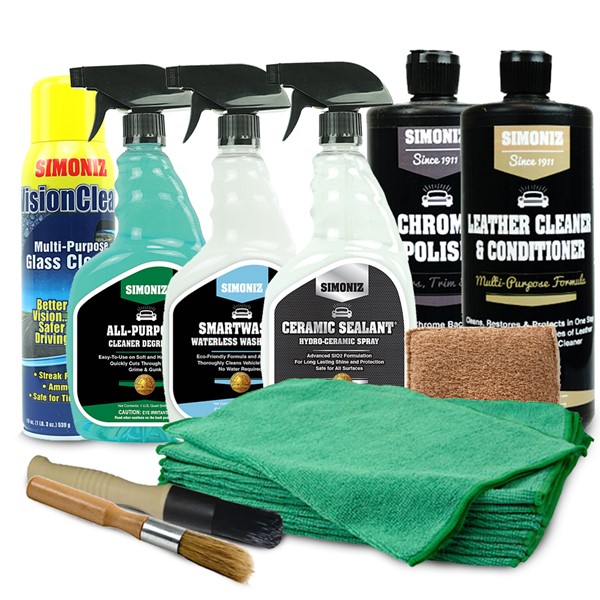 *Actual product packaging may differ from that shown here.