Lap of Luxury Kit
Mfg# DTP6
Item# DTP6
When you get the Lap of Luxury Kit you'll want to take a Victory Lap around the neighborhood after seeing how nice your entire interior looks after applying this kit! Keeping those leather seats conditioned and cleaned is a must, so we included our leather cleaner and conditioner to help maintain those beautiful leather seats and an applicator pad for easy use! Keep the car smelling fresh and clean with Citrus Clean Aerosol because no one likes having a tree hanging from their rear view!
Lap of Luxury Kit
Car Cleaning Kit
This kit includes:
Leather Cleaner and Conditioner - Keep them clean, and keep them fresh! Maintain the leather seats and accents of your car with Simoniz Leather Cleaner and Conditioner!
Citrus Clean Aerosol - A convenient ready to use aerosol cleaner degreaser that cleans, deodorizes and degreases floors, walls, vehicles, equipment, washable painted surfaces, porcelain and all tile surfaces.
Vision Clear Aerosol - Like your windows aren't even there! Vision Clear by Simoniz leaves a streak free shine every time!
Wax Applicator Pad - To apply the leather cleaner and conditioner!
Vent & Dash Brush - To agitate and clean those hard to reach spaces like vents, and the buttons on the dash and radio.
Microfiber Towel - To wipe the mess away!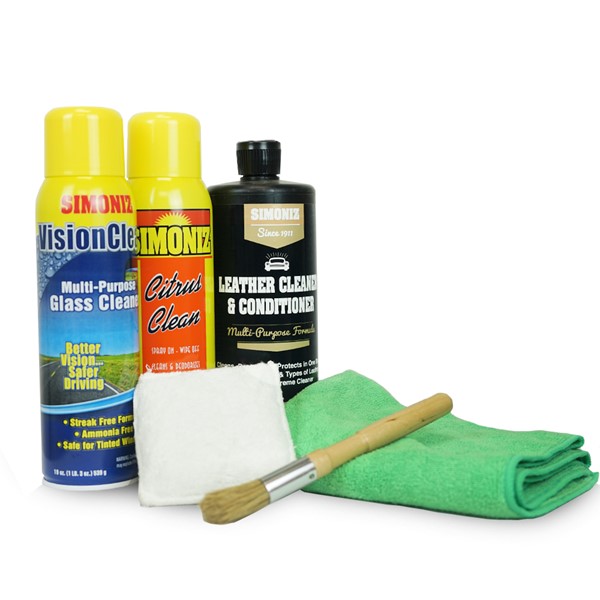 *Actual product packaging may differ from that shown here.