Final Touches Kit
Mfg# DTP4
Item# DTP4
The Final Touches are what every car lover lives for when cleaning their ride! We have here the perfect kit for finishing up that shine! Detailers Choice is an easy spray on polish to make your paint POP, Flash Black is a safe water based tire dressing that makes your tires look brand new and you'll be able to see the envy on the faces of your neighbors as you drive down the block because Vision Clear Aerosol will leave your windows streak free and clear!
Final Touches Kit
Car Cleaning Kit
This kit includes:
Detailers Choice - This Spray Polish is a must need in your garage! Get the showroom shine simply and quickly; spray on and wipe away!
Flash Black - Spray Flash Black on your tires and get a new tire look every time! Spray on and let dry for a nice clean look.
Vision Clear Glass Cleaner - One of the best selling products on shop.simoniz.com! Vision clear leaves a streak free finish every time!
Microfiber Towels Qty. 2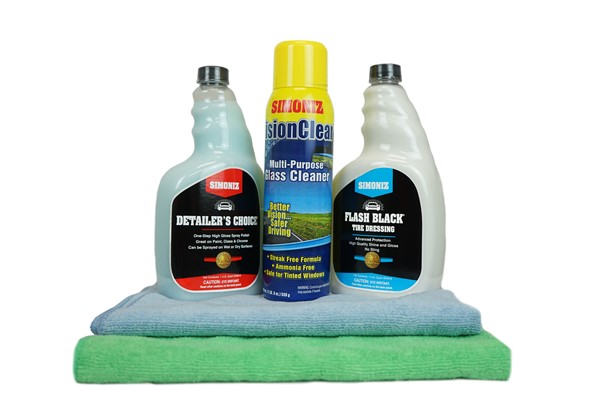 *Actual product packaging may differ from that shown here.