Detail Starter Kit
Mfg# RTUKit11
Item# RTUKit11
Kit includes:
RTU Ceramic Sealant
RTU Interior Cleaner
Wash N' Shine Car Wash Soap
12 Microfiber Towels
1 Wash Mitt
Detail Starter Kit
Ceramic Sealant Product Information:
Simoniz® Ceramic Sealant has an advanced SiO2 formulation for long lasting shine and protection that is safe for all surfaces. Its unique formu-lation delivers a highly hydrophobic and durable surface. Protecting your vehicle has never been easier! With Simoniz® Ceramic Sealant, you can polish your vehicle, give your wax or ceramic coating a boost and be the envy of your neighbors in only a few minutes. "SHINED, SEALED, DELIVERED"!
How to Use:
Shake well.
Hold 8-12 inches away and spray directly on to paint.
Spread product evenly using a soft clean towel to reveal and explosive shine.
Wash N' Shine PRODUCT INFORMATION:
There's nothing like hand washing your vehicle and we designed this car soap with that in mind.
Simoniz® Wash N' Shine is our high foaming, lemon scented neutral car wash soap that was designed to apply by hand but also works well through a pressure washer. It's biodegradable and safe for all automotive finishes. This is a favorite for hand washing at The Simoniz Garage and we use it before starting any other detail work.
How to Use:
Work in the shade or inside and make sure your vehicle's surface is cool to the touch.
For the best results use the two bucket car washing method. Fill two 5-gallon buckets with water and pour 1 oz. of soap into one of them. One bucket is for water only (a rinse bucket) and the other bucket is for the soap and water mixture (a wash bucket).
Thoroughly rinse your car using a garden hose with a nozzle to remove as many initial contaminants as possible. Now is also a great time to spray a degreaser like Crush Plus along the bottom of the vehicle as well as Don't Bug Me to break down road grime and bug soils. We also recommend cleaning the wheels and tires at this time (with a separate brush of course).
Soak your wash mitt in the wash bucket and wash the car from the top to the bottom. Start with the roof and then work your way down to the front and back windows, side windows, hood, trunk, sides, and wheel wells. Be sure to constantly rinse your mitt in your separate rinse bucket to keep the mitt free of debris and contaminant.
To rinse your vehicle remove your spray nozzle from your hose and simply let the water from the hose sheet the soap off of the surface. This help to prevent water beading up and leaving spots.
To prevent water spots gently dry the car from top to bottom with a

Micro Magic Towel. Completely open the Micro Magic towel, lay it on the surface of the car, and drag it across the surface without adding any pressure. Another method is to gently pat the surface dry with the Micro Magic towel. If you wish to avoid touching the surface use a leaf blower to dry your vehicle.
Interior Cleaner Product Information:
Simoniz® Interior Cleaner safely cleans most interior surfaces and materials from headliners to carpet, floor mats, dashboards, cup holders and door panels. It is formulated to safely and effectively clean without leaving residue. Simoniz® Interior Cleaner has a mild pleasant fragrance, so you won't be overpowered by strong chemical smells. It is also formulated to dry quickly to eliminate mildew and water staining on upholstered surfaces. Simoniz® Interior Cleaner leaves behind no residue to attract more dirt.
How to Use:
Test in an inconspicuous area to ensure compatibility.
For lightly contaiminated surfaces spray onto microfiber towel/mitt, agitate the surface, and wipe dry.
For cloth, upholstery, and carpet, spray directly onto the material.
Allow several minutes of dwell time, agitate with appropriate cleaning accessory, and wipe dry with a clean microfiber towel.
Stubborn stains may require additional applications.
NOTE: for oil based stains, try SIMONIZ All Purpose Degreaser.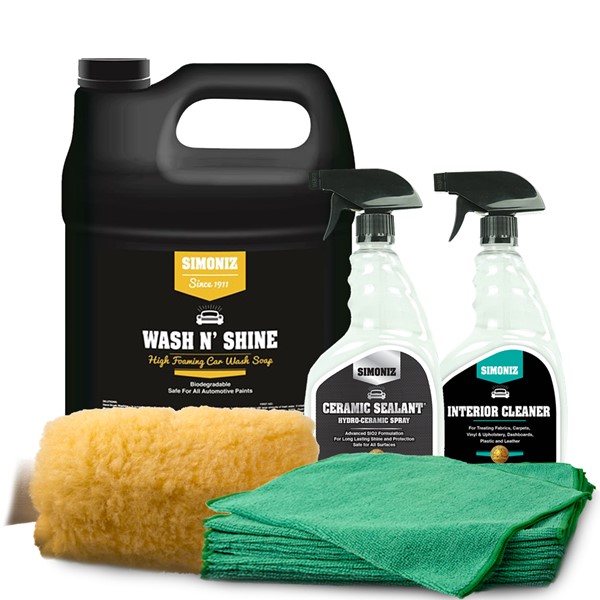 *Actual product packaging may differ from that shown here.