Clean and Shine Kit
Mfg# DTP1
Item# DTP1
The Clean and Shine Kit has every thing a DIYer needs to kick start their garage or replenish what they used! Packaged perfectly in the SIMONIZ Detail Bucket, this kit includes the tools and chemistry to completely wash and protect your ride!
Clean and Shine kit
Car Cleaning Kit
This kit inlcudes:
Simoniz Detail Bucket - A Detailers' necessity for cleaning, storage and many other purposes.
Auto Foam Car Wash and Wax - Wash and wax your car with a high foaming car wash soap!
Wash Mitt - Wipe away dirt and grime without scratching the surface of your paint!
Ceramic Sealant (SiO2) - NEXT LEVEL PROTECTION! Spray on, wipe away, protect your rides paint!
Total Wheel - Removes stuck on brake dust, tar and grime from wheels! (Hubcaps, Alloy Wheels, and rims)
Wire Wheel Brush - For when the chemistry just isn't enough, use the wire wheel brush to agitate the surface of your wheel before spraying it away with a hose or power washer.
Microfiber Towels (6pc) - wipe away all the mess! A detailer or DIYer can never have enough Microfiber Towels!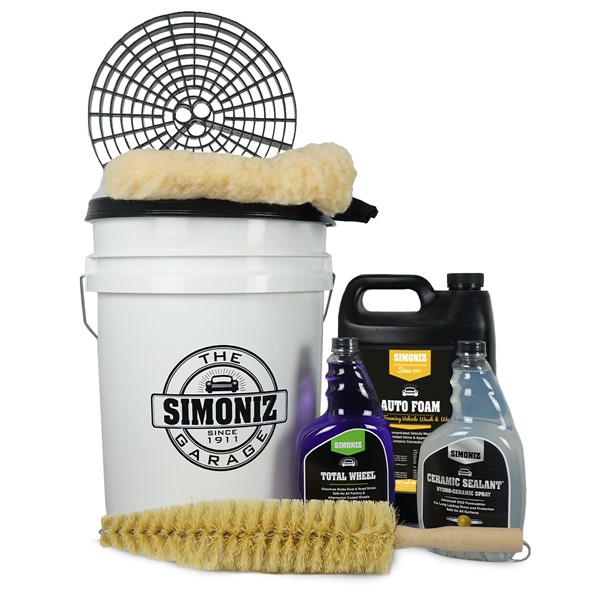 *Actual product packaging may differ from that shown here.